Donate your Box Truck for Tax Benefits
We're looking for a Box Truck that we will convert to a Mobile Communications/Emergency Operations Center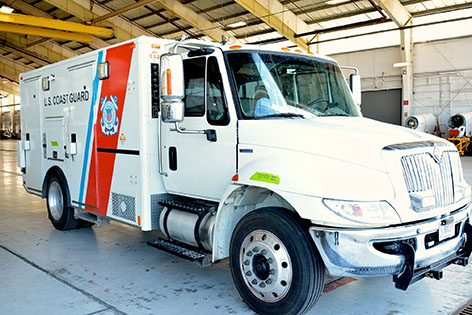 With the hurricaine season quickly approaching, it's our goal to have a mobile communications operations center operational for this coming hurricane season. Your vehicle donation will assist the Coast Guard and the Auxiliary in providing essential communications during times of crisis. Severe storms can render fixed systems useless while a mobile communications center can be deployed to a specific area of need.
Known as "America's Volunteer Lifesavers" the United States Coast Guard Auxiliary was established by Congress in 1939 to assist the Coast Guard in promoting boating safety. It boasts more than 35,000 members from all walks of life who receive special training so that they may be a functional part of Coast Guard Forces. Auxiliarists assist the Coast Guard in non-law enforcement programs such as public education, vessel safety checks, safety patrols, search and rescue, maritime security and environmental protection and Coast Guard Academy introduction programs for youth.
The Coast Guard Auxiliary receives no direct funding from the federal government. Volunteer Auxiliarist serve without compensation and come from all walks of life. The members, themselves, provide most of the required financial resources for maintaining the organizational and management/command structure of the Auxiliary.
Your personal or corporate donation would go to the The Coast Guard Auxilairy Association which would then provide the vehicle to the Ft. Myers Beach Flotilla. The Coast Guard Auxiliary Association, Inc. (Offices in St. Louis, MO), is a Non-Profit, 501(c)(3) organization incorporated under the laws of the District of Columbia and listed in the IRS Publication 78 as a Charitable Organization. The Commandant of the U.S. Coast Guard authorized the establishment of the Association as the only corporation authorized to provide for the business management of the U.S. Coast Guard Auxiliary.
Call 239-425-7914 for further information on the donation of your vehicle.