Programs for Marina's and Boat Dealers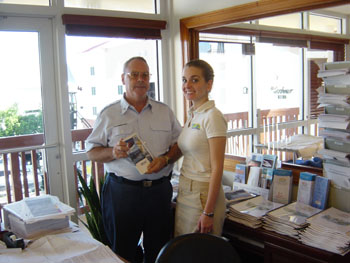 The U.S. Coast Guard Auxiliary offers a complimentary service to keep yourself and your customers informed of Federal and State requirements for safety. Purely advisory, the Auxiliary will meet with you at least quartely to discuss changes in federal requirements, and to deliver important safety related information in the form of a table top literature stand.
The U.S. Coast Guard Auxiliary also offers special educational programs for Marina's regarding Marine Safety, Maritime Domain Awareness and Environmental Protection that are suitable for both your employees and customers.
We also offer special discounts to boat deales and brokers. Many boat dealers and brokers have included the U.S. Coast Guard Auxiliary Boating Skills and Seamanship class in the sale of their boats. Be sure to ask how this program help both your business and customers.
Simply complete the form below to learn more how we help.
You can find safe boating material at these fine locations:
Salty Sam's Marina
2500 Main Street
Fort Myers Beach
Moss Marine
450 Harbor Ct.
Fort Myers Beach
West Marine
17105 San Carlos Blvd, C-2
Fort Myers Beach
Fish Tale Marina
7225 Estero Blvd FM Beach
Snook Bite Marina
4765 Estero Blvd FM Beach
Top Stich
19110 San Carlos Blvd FM Beach
Ft Myers Beach Marina
703 Fishermans Wharf FTM Beach
Boaters World
Rt 41 FM
Walkers Marine
16115 San Carlos Blvd FM
Reel Deal
16820 San Carlos Blvd FM
Discount Boat Marine
17661 San Carlos Blvd FM
Port Sanibel
Marina 14341 Port Comfort Rd FM
Dumont Marine
16821 San Carlos Blvd FM
The Boat Place
16394 San Carlos Blvd FM
Bass Pro Shop Marine Supplies
10040 Gulf Center Drive Ft Myers
(The U.S. Coast Guard or the Coast Guard Auxiliary does not recomend or endorse these facilities.)