Coast Guard Auxiliary Speakers Bureau and Special Appearances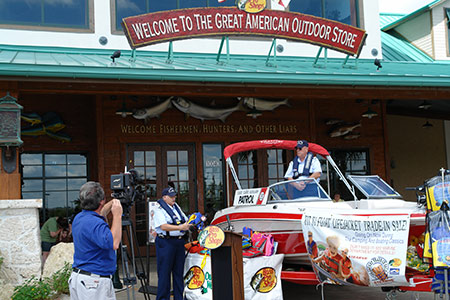 [Local TV News films Daniel Eaton, Flotilla Public Affairs(Left) with Bill White, Program Visitor Officer (Right)]
The US Coast Guard Auxiliary together with Sterns, Inc. and Bass Pro Shop launch a public awareness campaign and education program to bring light to the importance of wearing your life jacket and having the proper fit.
Special Appearances
The U.S. Coast Guard Auxiliary offers special appearances and speakers bureau for a wide range of topics from safe boating practices to protecting our environment to a wide audience from grammar schools to the marine business industry. Our members have appeared on local television, radio and many local boatings clubs. You will aalso find U.S. Coast Guard Auxiliary information booths at many of the boat shows throughout Southwest Florida.
Simply complete the form below to learn more about our speakers bureau.
239-690-6780
National Auxiliary Website | Boating Safety | Class Calendar | USCG Recruiting | Feedback
Front Page | Link to us
Website Privacy Policy
US Coast Guard Auxiliary 91D7
---
© 2018 U.S. COAST GUARD AUXILIARY
NOTICE/DISCLAIMER Links to non-Coast Guard entities are not under the control of the United States Coast Guard or the United States Coast Guard Auxiliary, and are provided for the convenience of our customers.
They do not, in any way, constitute an endorsement of the linked pages or any commercial or private issues or products presented there. We cannot make any warranty or representation concerning the content of these sites, or secondary sites from the pages to which they link. US Coast Guard Auxiliary Fort Myers Beach.